MAC Container Modular Homes Commissioned by
Epping Forest District Council
Comfortable and safe housing solutions for the homeless
We were chosen recently as the core supplier for a series of Container type homes for a housing project in Epping Forest, Essex. Four of our Modules were selected to create housing units by the District Council, with the aim of offering comfortable and safe housing solutions for the homeless.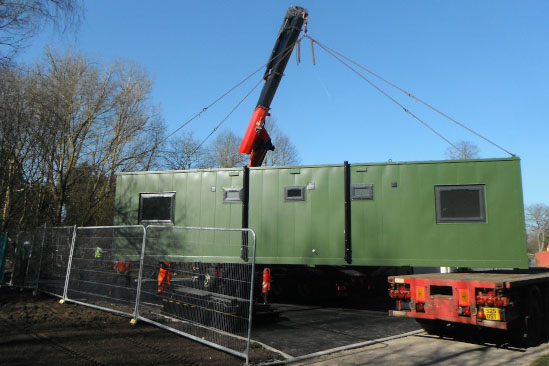 Container housing module "pod" being moved from the lorry with a crane
They are being referred to in the scheme as "pods" and will be used to tackle the growing housing crisis by providing emergency accommodation to those struggling to find a place to live across the area.
Affordable and sustainable accommodation
Since prices of the Building Reg MAC Containers started at only £23,050 (includes VAT) at the time the project was started, they were the perfect solution for affordable and sustainable accommodation provided by the Council. These units were requested as studios or one-bedroom homes, and as with all our container homes they feature full insulation, heating, lighting, security windows, kitchen drainers, worktops and cupboards, showers, sinks, and toilets.
The scheme and development are part of a trial project providing temporary homes at the Council's homeless hostel at Norway House, North Weald. The project currently boasts forty-eight single and double rooms in the main building and the additional Double container homes commissioned from us have created six new comfortable and practical homes for single people, as well as a large secure additional storage area.
Our containers units can be linked and stacked in this case to really create a community for those who may have previously suffered from isolation through living on the streets, helping to create a thriving atmosphere around the project and making it one we're proud to be a part of.
With there currently being 1,500 people on the homeless register in the Epping Forest District alone, it's crucial for us to help cut down on the Council's expenses on bed and breakfast accommodation, so a cost effective solution can be used to free up more budget for advice and support to provide these people with a better future.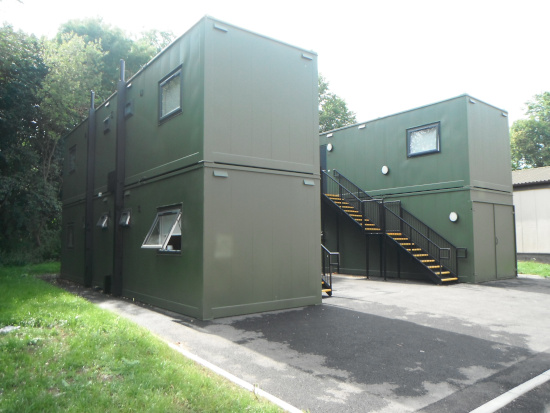 Container housing module "pods" ready to be occupied
Speedy and innovative construction
We're pleased to boast speedy and innovative construction of the so called "pods" (they can be ready for dwelling within 12 weeks!) which makes them a fantastic independent living solution.
As this solution has proven to be so effective, the Council are looking at introducing more of our Housing Modules to meet the needs for housing in the district.