Our container homes
STYLISH AND CONTEMPORARY HOMES FOR SALE
MAC's innovative, modular homes have a wide range of uses. They are excellent value, available quickly, brand new and portable.
WHO ARE THEY FOR?
MAC's container housing can cost as little as £17,050 (includes VAT) for a bespoke, brand new 20' x 8' home. See more prices and sizes.
We can also build homes to comply with building regulations  suitable for permanent dwellings, check our current prices .
WHY BUY A MAC CONTAINER HOUSE?
MAC is the UK's leading provider of container homes. We provide container buildings to an impressive list of blue chip clients. Read our testimonials
MAC tailor-makes and sells individual container houses to your specific requirements. We do not rent container homes
MAC builds brand new container houses, rather than converts used shipping containers
A fraction of the price of a traditionally built house. The average UK house price is currently £200,000 (£600,000 in London). See our prices for the cost of a one or two-bedroom container house that is fully compliant with building regulations.
With the costs of renting, stamp duty, the squeeze on mortgages and general moving expenses so high, modular housing is an imaginative and contemporary alternative
Delivery takes around 12 weeks, depending on the configuration you choose
Completely bespoke. You choose the layout, finish, fittings and colour that suit your plans. We have thousands of options on the table and can help you design your perfect space. Explore your options
No special site preparation required. As is typical of modular housing, container homes are considered 'non-permanent' and not requiring full-scale foundations. You will, of course, have to organise services such as drainage, water and electricity to your site and our container homes come with all the necessary fittings in place
You may not need planning permission, but there are some exceptions. See our guide to planning permission for further details
WHAT ELSE DO YOU NEED TO KNOW?
Reputation
MAC is an expert, trusted provider. We have been active in the containers business for over 40 years, making container homes and other types of container buildings.
Purpose-built off site
Our modular housing is factory-built and not affected by the unpredictable conditions of a building site. Off-site building means an efficient construction process and fast delivery as our production is not hampered by usual problems affecting building sites such as high winds, rain and ground conditions. In its White Paper on Housing, the government is actively encouraging this efficient approach to construction.
You can join or stack
MAC container housing can be joined or stacked to make the most of your site. We can help with the design and supply of staircases, gangways, doors, windows and all you need to make your scheme work.
You can move it
Homes can be readily moved and relocated. Container house communities can be created fast and moved to new sites to make the most of spare land subject to planning enquiries, which can go on for months or even years. In the meantime, why not populate the land with container homes so that tenants can be comfortably and economically housed?
Accessibility
We can adapt your home for accessibility for the comfort and convenience of elderly or disabled people.
Customer service
We can help with every aspect of your container housing needs. From working with you on the design to bringing your home to life with exactly the layout and finishes you want.
Delivery
We deliver your new container house ready to live in, with all your choices of finish and layout fitted at the factory.
Watch A Video Tour of One Our Homes:
All-new build
We do not convert old shipping containers for people to live in. We produce brand new container homes to a guaranteed build standard, backed by a 10-year structural warranty. Your home is designed, from the ground up, to be a home, untouched by seawater or contents that could have undermined its structural integrity.
You can be sure of the provenance and quality of a new container home, and so can we.
Our container housing units are purpose built and not converted shipping containers.
Solid floors. Unlike old shipping containers, a MAC container home has a solid steel, sealed floor.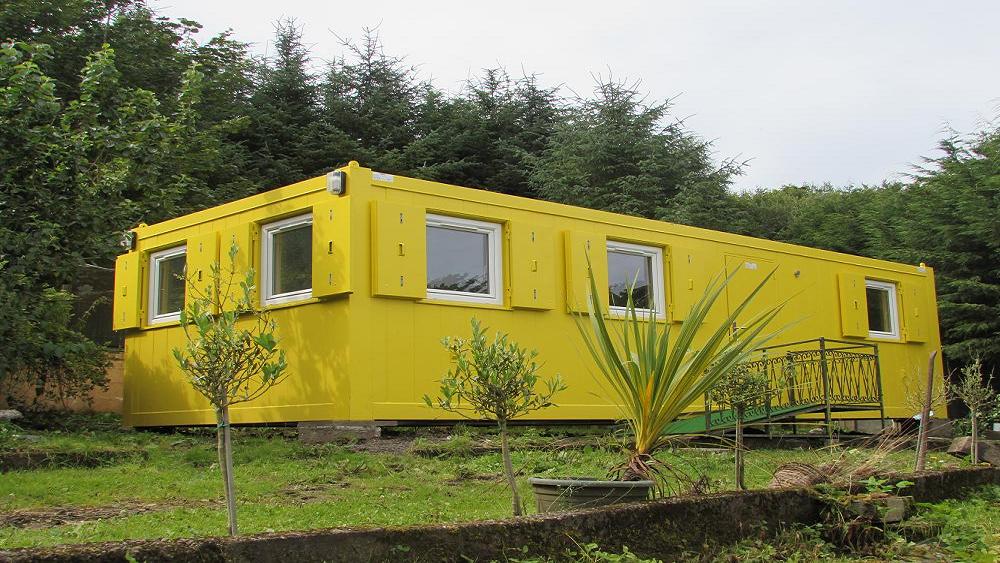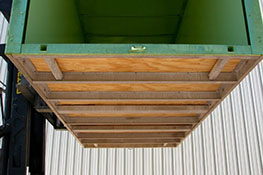 The underside of a typical shipping container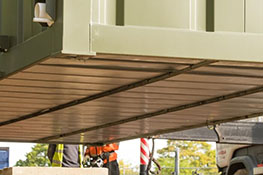 The underside of a bespoke MAC container home
Roof. The roof of a MAC container home is of pressure-bowed construction, so that the centre of the roof is slightly raised to allow for rainwater run-off.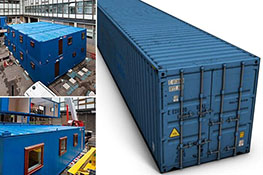 The roof of a typical shipping container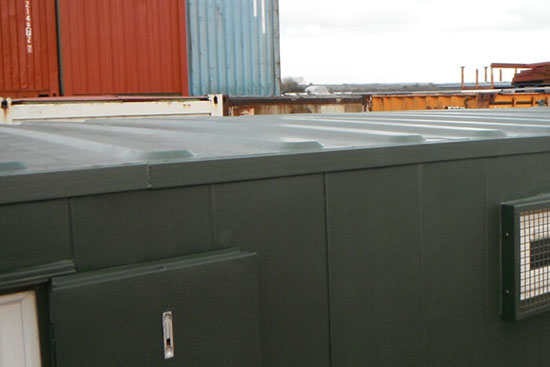 The pressure-bowed roof of a Mac container house
Exterior style. Choose from corrugated or smooth-sided.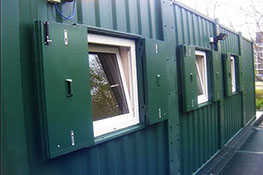 Corrugated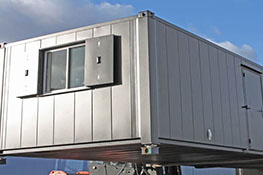 Smooth-sided
Paint. Any colour you like as long as it's MAC. Our container houses are painted with a one-coat, Hempel chlorinated, rubber-sealed paint system. You have a choice of no fewer than 197 colours, providing an excellent finish that you can change or touch up later with ordinary paint.
UV values and insulation. The UV values of a MAC container home are usually as good or better than a bricks and mortar equivalent. The insulation and trickle vent system inherent in UPVC windows prevents condensation. We can also soundproof your container house.
Thousands of options
From exterior paint colours to window placement to wallpaper. We can decorate your home, just the way you like it. You can also stack and join units for a larger space, such as the U-shaped unit shown below.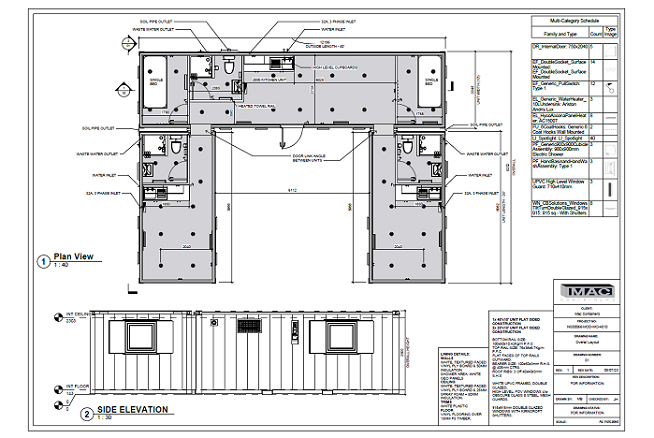 U-Shaped Housing Unit