Staff housing
A HOMELY ADDITION TO THE BENEFITS PACKAGE
Fully equipped MAC container homes for short- or long-term accommodation make it so much easier to keep and attract temporary staff. You can create opportunities for live-in employment without sacrificing your own privacy.  Warm, comfortable accommodation will be a big plus for jobseekers, especially when working outdoors.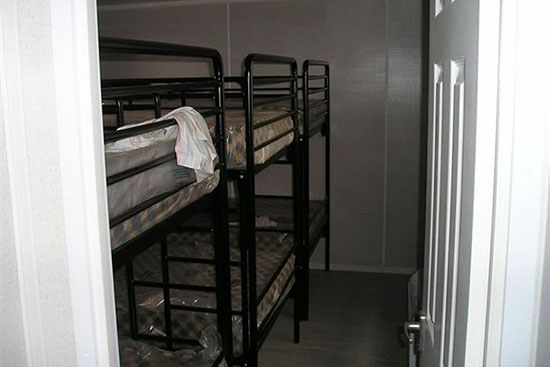 Superb value for temporary or seasonal accommodation and for permanent container homes that fully complies with building regulations.  View prices
Crew sleeper unit (44 feet by 10 feet) also available for up to 12 people, with a separate unit for kitchen, laundry, shower and toilet facilities. It is possible to fit a 44x10 unit with bunk beds allowing up to 16 occupants.



Flexibility. Our buildings can be adapted to a variety of uses and needs.  We can fit ramps, handles, stairs, shutters, gangways and more
Planning.  Planning permission is often not necessary, as container housing is considered non-permanent.  For further information, please see our guide to planning permission
Rental value. If you want to let your container housing or offer a home as part of a staff package, a rough guide to the rental value is 75% of the market rate for a bricks and mortar alternative
Building regulations. If your staff only occupy the home or homes for short stays, it is not necessary to comply with building regulations, making them 30-40% cheaper. Check with your local planning authority if any restrictions or regulations apply
Available in various lengths and widths
Robust and secure, with high quality locks and lockable window shutters
Designed to your specification. Typically including bedrooms, sitting room, kitchen and bathroom. Explore your options



Readily adaptable to your changing needs. These homes can be repositioned, repurposed or moved to a new site altogether
Custom-specified to suit your taste and lifestyle. Literally, thousands of design options
Delivered in around 12 weeks, ready to move into with all services in place
Backed by a 10-year structural warranty
QUALITY BUILD FROM THE UK MARKET LEADER
MAC is the UK's leading provider of container houses with a 40-year track record in container buildings. Our clients range from blue chip companies to the defence industry, every London borough and major commercial brands. We also supply small businesses and individual owner-occupiers.
"MAC containers are excellent quality and good value for money.  The staff at MAC Container Company Ltd was extremely helpful, taking the time to assist me with choosing a specification to match our firm's requirements.  They gave me every assistance possible with regard to supply and delivery..." Watson Burton LLP