Utilities
POWERING UP YOUR CONTAINER HOME
A MAC container home provides all the modern conveniences of a brick-built house with access to the full range of domestic utilities.
We fit portals at the base of the container to channel pipework and cabling for running water, waste disposal, gas and electrical power inside the unit. If your container home is some distance from the mains, you will need to install underground pipework and cabling to comply with industry and local authority regulations, as well as statutory regulation of energy supplies.
Equipping your container home with all modern conveniences is usually straightforward and carried out by any licensed electrician or plumber. As with any residential accommodation, all installations must meet and be certified to British Standard regulations.
Utility services to individual container homes and estates can take some weeks to set up, especially if no services are currently available on the site. So start looking for sources of supply as soon as you've decided on a plot.
The utilities market is highly competitive, which gives you plenty of options to shop around for the best deal.
GETTING STARTED
The government publishes a guide setting out what developers and utility companies should expect from one another when working together on new build projects. Download the guide.
You can also talk directly to your local authority and all reputable suppliers provide comprehensive guidance on their web sites.
CHECK INSTALLATION COSTS BEFORE BUYING LAND
It's important to take the cost and complexity of installing utility services into account when assessing the viability and cost implications of a plot purchase. This could have an influence on your bargaining position and what you are prepared to pay the vendor for the land.
Ask local service providers to quote for new supplies for gas, electricity, water, waste water and telecoms, or for re-connecting existing supplies on land previously occupied by buildings.
New electricity supply quotations typically range between £2,000 and £3,000.
Mains gas connection prices tend to come in much lower, at around £300 while your plot may not be close enough to a gas main to make connection feasible, it's still worth asking for a quotation. The supplier may be willing to extend the mains supply to take advantage of a new property coming onto the network.
Industry standards require gas and electricity and telecoms to be laid at around 450mm below ground, water at 750mm. You can save yourself a lot of time, work and money if you run your utility pipes into one trench.
CONNECTING THE ELECTRICITY SUPPLY
Ask your local distributor network operator (DNO) to send you a new domestic connection application or complete one online. You may need to include:
Consent forms, if the supply will cross third party private land
Maps of the plot's location and of the property within the plot, showing the meter box location, ideally wall-mounted in a place easily accessible for readings and maintenance
The DNO will prepare a quotation and works schedule, including lead times, details and an acceptance form. You will need to check, sign and make your payment for the contract.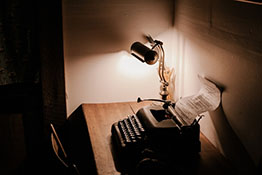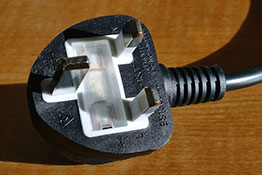 Once you receive a date for connection and the unique number for your meter point, you can go ahead and arrange for your chosen supplier to install the meter. The new supply needs to be in place before the meter arrives.
HOW MUCH WILL IT COST?
Prices for electricity supply typically start at £1,548. Additional costs will be incurred for work carried out by builders, electricians, councils or other third parties.
You will need to dig a trench from your new meter position to your property boundary. You would normally appoint a builder to do this for you, but UK Power Networks can quote for it too, from £55 per metre depending on the surface type
You will need to buy an electricity meter box and other material to protect the supply cable
You will need to employ a qualified electrician who will charge you a fee for installing temporary electricity for the building site. They will need to certify their work
You need to arrange for your electricity service provider to fit the electricity meter
The distributor will need to appoint an accredited company to dig in in the footway or road to connect a new underground supply. The local authority may charge for the footpath or road to be closed while work is done
CONNECTING THE GAS SUPPLY
The gas supply network in Great Britain is divided into eight networks operated by four different gas transporters (GTs). These companies provide and maintain the infrastructure for the gas suppliers responsible for connection, metering and billing.
Determine which gas transporter covers your area and apply for a new gas connection. You may need to include:
Consent forms, if the new supply crosses third party private land
Site location and layout plans showing the proposed meter location
Details of excavation, reinstatement and provision of meter boxes
The transporter will prepare a quotation, works schedule, lead times, details and an acceptance form for you to sign and return.
Choose a gas supplier and arrange for them to install your meter. There are several meter box options but if you want a built-in cabinet you will need to buy this yourself and build it into an outside wall as per the transporter's specifications.
Make sure a registered gas safe engineer installs the gas pipes and appliances in your home with a supply pipe from the meter cabinet.
HOW MUCH WILL IT COST?
The price of a new gas connection depends where the property sits within the plot, the area of the country you are in and the provider. You can expect to pay at least £250 for the simplest connection, with prices increasing in proportion to the distance from the main and works involved. Some companies publish example prices to give you an idea of what to expect.
If your property is some distance from the highway or the nearest gas main, you may want to consider an alternative such as an oil or gas tank or micro generator.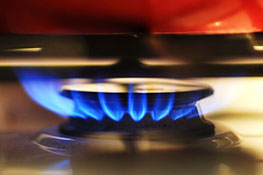 CONNECTING TO THE WATER SUPPLY
Costs for a new water connection depend on a range of factors such as where the main is in relation to your entry point and whether the supply company has to excavate unmade ground, pavements or roads to make the connection.
Find out your local water supplier and visit their web site to find out about costs, lead times, details of the process and your responsibilities in it.
Complete the application process for your chosen provider. Waste water services and sewer connections require a separate application but may be provided by the same company. You should include the following information:
Site location and layout plans showing the proposed point of entry
Planning reference number for planning permission
Details of any water recycling systems and/or sprinkler systems you intend to use
A land risk assessment if the new supply pipes need to cross any potentially contaminated land
Who will carry out the plumbing installation and lay the supply pipe from the boundary to your stop tap
Details of the plumbing installation
The supplier may want to organise a site survey to assess the extent of the work and make sure they can meet the statutory supply requirements.
Before you're connected, you will need to complete the plumbing installation in your new home and excavate and lay the supply pipe from the stop tap to the agreed entry point at your property boundary. The supplier will need to inspect all this before providing the connection.
To comply with the Water Supply Regulations 1999 for the safe and efficient distribution of water, preventing waste, contamination and misuse, the installation needs to be certified by an accredited contractor under the Water Industry Approved Plumber Scheme (WIAPS) or by the supplier who inspects the supply pipe and the plumbing installation prior to connection.
HOW MUCH WILL IT COST?
There are two main components to water connection charges. A connection charge of £400-plus – and an infrastructure charge to cover the additional load of a new user on the entire water supply and waste water systems, usually around £300 for both services. Further costs may be incurred if your home is some distance from a public main and the water company has to extend it.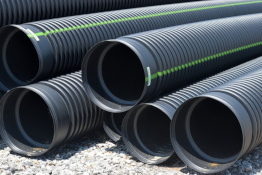 CONNECTING TO DRAINAGE SYSTEMS
The water supplier may also operate the sewerage for your area, but sometimes you will need to deal with a separate company for this. If no mains drainage is currently available, you should get a quotation before you commit to buying the land and the container home – and explore off-grid alternatives such as a septic tank or a treatment plant.
CONNECTING TO BROADBAND AND TELEPHONE SERVICES
Telecoms tend to be the easiest and cheapest utility to deal with. They often supply plastic ducting to lay below ground so that their cabling can be pulled through at a later date. You can compare broadband services and check service levels and availability in your area on most comparison web sites.
BT Openreach owns and operates the national network and will need to run a connection from the network into your home. Where there's no suitable BT line available in your property, you might need to pay a connection charge – normally £130 for line rental only – to cover engineering work in the exchange or your property to connect the line. The charge is waived if you buy a bundled package including broadband and TV. Like the rest of the utilities arena, this is a competitive market, so shop around with different providers for the bundle that works best for you.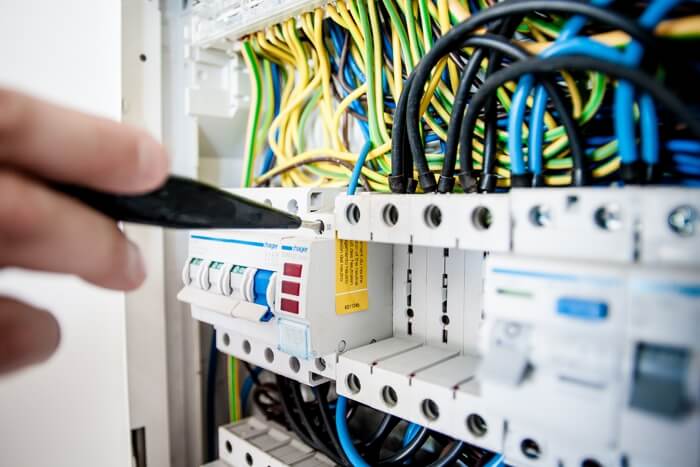 OFF GRID SCHEMES
Some of the charm of a container home is that you can live just about anywhere, so you may feel that the extra cost and inconvenience of installing mains services in an idyllic rural backwater is a price worth paying. But sometimes, the cost and complexity of laying new infrastructure will rule it out.
Don't worry. You still have plenty of options:
Oil powered central heating and hot water
Wood burning stove
Range cooker with integrated back boiler
Rainwater harvesting systems
Septic tank and water treatment plants
Solar PV systems
Wind power generators
If you wish to site your container home off grid, we can provide a design specification to enable you run all services and appliances independently using the latest technologies.
Electricity distribution
Electricity/gas supply
Gas distribution
Water supply/waste water

UK Power Networks
London, South East and Eastern England
Northern Powergrid
North East England and Yorkshire
Western Power Distribution
East Midlands, West Midlands, South West England and South Wales
Northern Ireland Electricity
Northern Ireland
Scottish Power
Southern Scotland, North Wales, Merseyside and Cheshire
Scottish and Southern Energy
Northern Scotland, Southern England
Electricity North West
North West England

Visit the UK Power web site for impartial comparisons.
Or check online price comparison sites available:

And many more.

National Grid
North West, West Midlands, East Midlands, East Anglia, North London
SGN
Scotland, South and South London
Northern Gas Networks
North
Wales and West Utilities
Wales and South West

Visit www.water.org.uk. Click on the map if you aren't sure which one covers your plot.
You can also compare the performance of water supply companies at Discover Water.