Public sector housing
FIND A LASTING, AFFORDABLE SOLUTION TO YOUR HOUSING SHORTAGE
In its White Paper on Housing, the government actively encourages the use of modular housing and off-site building methods as a viable, modern approach to dealing with housing pressures.
MAC container homes offer economical and versatile accommodation for your social housing projects.
TRUSTED PROVIDER IN THE MODULAR HOUSING MARKET
We have 40 years' experience in the container buildings business, supplying homes to many multinational clients, public sector organisations and private individuals. The NHS, every London borough, the US Navy, McDonalds Restaurants and many others rely on MAC's buildings for temporary and permanent residential and business accommodation.
PURPOSE BUILT OFF SITE
We do not convert old shipping containers with their variable histories and possible damage from seawater or rough handling. We build from scratch, using solid steel construction throughout, with roofs pressure-bowed to allow rain run-off. We are not affected by weather and the unpredictability of building sites, which means reliable delivery lead times. Container houses are built and fully fitted to your specification at the factory with partitions, kitchens, bathrooms, wiring and plumbing all ready to use. The whole package can be designed, specified, built and delivered in around twelve weeks. A fraction of the time taken for a traditional build, especially in winter.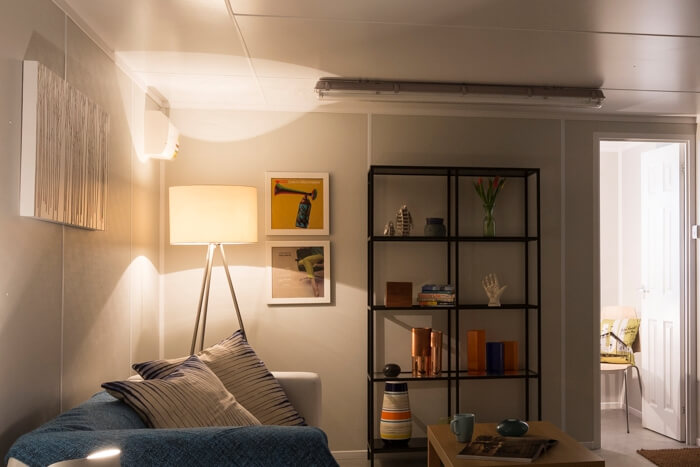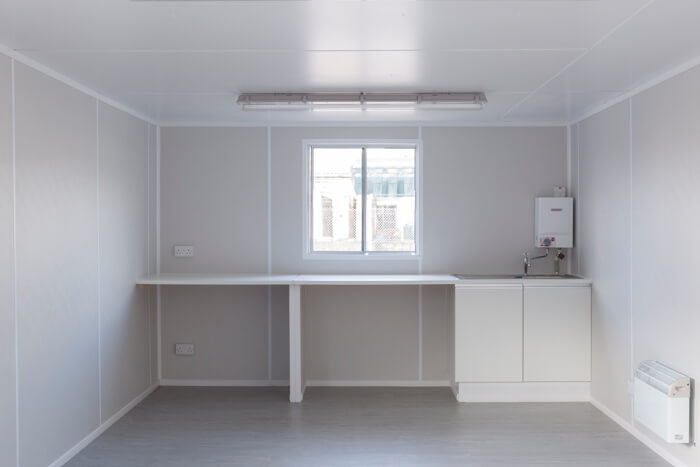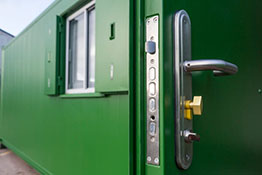 PLANNED HOUSING FOR EMERGENCIES
Multiple units can be built to order and stored securely in our warehouse free of charge and called off, as and when needed. We can provide a pool of shared housing units to provide economies of scale for a number of authorities and housing associations.
GREAT VALUE
With the average UK house price now exceeding £200,000 (£600,000 in London), a container home provides an efficient, contemporary dwelling for a fraction of the cost. See our prices for the cost of a standard 20' x 8' container home suitable for temporary accommodation and a 20' x 8' container home that fully complies with building regulations for a permanent dwelling. More information and prices.
POPULAR WITH TENANTS
Council rents are typically 25% lower than comparable bricks and mortar housing. With their lower initial costs, it can be easier to keep container house rents at benefit-friendly levels. Compared to B&B costs of about £280 per person, per week, a container house could pay for itself quickly. We estimate a 35-week payback.
POTENTIAL TO REDUCE HOMELESSNESS
Homelessness has risen sharply over recent years, bringing container houses to the fore as a realistic and uplifting solution. Our straightforward homes can be put to use very quickly to help the most vulnerable.
Click here to read how our container houses are being used by Epping Forest Council to offer affordable housing.
REGENERATION OF SURPLUS PUBLIC LAND
Of the successful bricks and mortar planning applications from 2010-2016, only a third have actually been built (at the time of writing, November 2017), leaving a housing shortfall. MAC modular homes provide an imaginative way to meet the government's demand for alternative housing provision. 
ADAPTABLE ACCOMMODATION
Container houses can be stacked, linked, staggered and arranged to meet the changing needs of residents and planners to incorporate two or three storeys, several bedrooms, en-suite shower, bathroom and staircase
Homes can be adapted for improved accessibility for elderly or disabled people, including ramps and extra-wide doorways
Sites can be populated pending lengthy planning and processes involved in permanent construction. During the protracted time between land acquisition and building, many tenants could be housed in container villages and similarly relocated when the lease expires
MAC container homes are fitted with deadlocks, internally locking window shutters, smoke and burglar alarms. and sensor-controlled security lighting.
DESIGNED FOR YOU. BUILT TO LAST
We can visit your site, help design your project, organise its build and deliver your new container homes to site, fully fitted and ready to live in.
Interiors are designed to suit your specification. Exterior colours, door and window placement are tailored to your choices
Available in 9', 10' or 12' widths and between 20' to 40' long. Other sizes available on request. More information on sizes
Every home is warranted for 10 years, requires very little maintenance and is covered by our after care repairs policy. We aim to be on site within 48 hours if you need us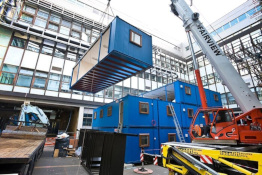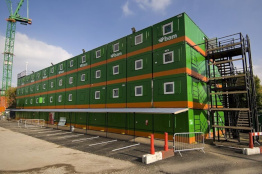 "What we have ended up with is exactly the solution we were after, finished to an excellent standard and at a very competitive price.  I am more than happy to vouch for the service you have provided."
Nigel Richardson, Tower Hamlets.