Private dwellings
CREATIVE AND PRACTICAL SOLUTIONS FOR MODERN LIVING
"The yellow submarine is with us... she is quite beautiful... Many thanks to all concerned." Nicole Wharton
A MAC container home offers imaginative, contemporary, perhaps a little quirky, style of accommodation for domestic or business use. With so many choices on the table, we can create a home to fit with your personality and lifestyle.
Looking to build a container village and need to buy several container houses for your organisation? Visit our information page.
MAC'S CONTAINER HOUSING IS PERFECT FOR:
Permanent living in our superior homes, built to comply with current building regulations.
People who want a home adapted to their needs, such as elderly or disabled people
Extending your existing home. Check with your local authority if you need planning permission
Young people's accommodation
Dens, art or music studios, complete with soundproofing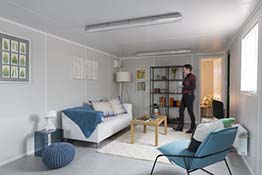 Stylish living area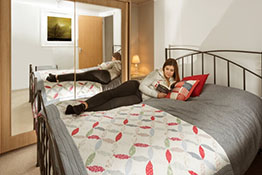 Young people or music studio
GROW YOUR OWN SPACE
If you want a little extra space to work, live or play, or to accommodate temporary workers, MAC container houses come in all sorts of configurations and levels of comfort. View your options.
WHY BUY A MAC CONTAINER HOME?
Why not? This is housing that can work for almost anyone, for a fraction of the cost of traditional housing and a superior build quality compared with other types of temporary offices and homes.
Economical. Usually much cheaper to buy or finance than bricks and mortar alternatives.
Versatile. It's whatever you want. You can have extra bedrooms, create a garden office or studio, or provided a fully self-contained home for a relative
Delivered fast. Normal lead time is 14 - 16 weeks
Brand new and built to your specification
Bespoke. Available in many sizes and styles so that you can get exactly what you want from your container house.
Portable. A container home requires no permanent foundations and can be moved from one site to another as and when required
Built off site in the UK in a factory setting. We are not affected by unpredictable site and weather conditions
Expert service. We can help with every aspect from design to delivery and after care
Smart, stylish and innovative.  Your new container house is delivered with all your interior choices fitted at the factory, including kitchen and bathroom
Flexible. Move, repurpose or link several MAC container buildings to provide small developments to house staff, students and temporary workers
Secure. Fitted with quality locks and internally secured shutters
Built to last. Covered by a 10-year structural warranty
From the UK leader. MAC has been in the container business for over 40 years. Our clients include many repeat customers and blue chip organisations
BRAND NEW VS SECOND HAND
The container home you buy from MAC is a new build, tailor-made to your specification. It is not a converted shipping container which could have a dubious and unknown history, having been exposed to sea water and rough handling.
The floor of a standard shipping container is only partially made of metal, whereas a MAC container house has a solid steel floor, greatly reducing the risk of water ingress.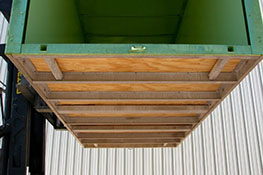 Underneath of standard shipping container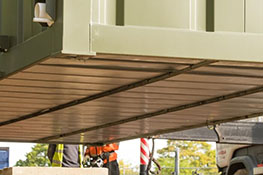 The solid steel underside of a MAC container home
A MAC container home has a pressure-bowed roof, to allow rainwater to run off.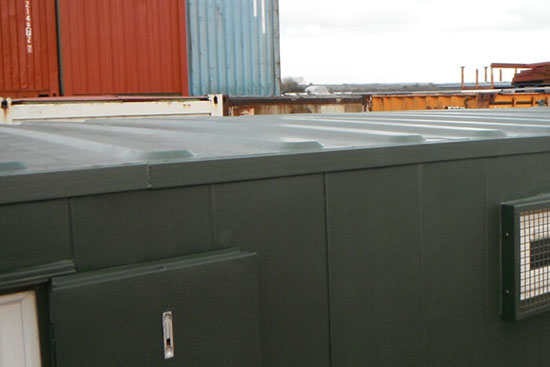 Pressure-bowed roof for water runoff
EASY TO BUY AND INSTALL
Buying MAC's modular housing is easy. After discussing your plans with us, you choose exactly what layout and fittings you want. We will deliver your new building to you in around 14 - 16 weeks, ready for occupation.   Buying your container home.
A SAFE ALTERNATIVE IN A DIFFICULT HOUSING MARKET
MAC container homes can provide a versatile and practical alternative.
The average price of a house in the UK is almost eight times what most people earn. High deposits and big mortgages make the idea of home ownership an impossible dream for many.
A young couple on an average wage, saving towards a deposit on an average house, will have to wait many more years to buy their own home than millennials would only a generation ago.
In a couple of years, it's possible that 75% of 30-year-olds will not own a home at all.
The rental market isn't making life any easier either. Homes are in short supply in the public and private sector. According to The Royal Institution of Chartered Surveyors (RICS), UK rents are forecast to increase 25% over the next few years – faster than house prices.
Rises in Stamp Duty, the squeeze on mortgages and lack of property supply are leading more and more people to sidestep the traditional housing market and look for alternatives.
A CHEAPER MORTGAGE, OR NO MORTGAGE AT ALL
Container housing costs much less to buy than bricks and mortar alternatives. The Council of Mortgage Lenders (CML) is considering options for financing modular housing. New container buildings (rather than old shipping container conversions) offer better security for a lender, as their quality is easier to assess and verify. If you aren't able to secure a mortgage, you may be able to finance the project through a personal loan, as is often done for cars, motorhomes and boats.